Sight Glass Checks Coolant Level or Air Compressor Sight Glass

1/2" NPT Male Solid Brass Transparent Natural Glass Sight Window Glass Oil Sight Gauge

Also heavy duty trucks & industrial machinery radiator aluminum liquid sight glass and

stainless steel liquid level sight glass supplied.

Custom sight glass as your requirements.




Oil level sight glass




Material Body: Brass/aluminum/stainless steel




O-Ring: Viton,FKM,FPM,NBR, Aramid gasket and Copper seal




Glass Thickness: 2mm to 5 mm




Reflectors: Stainless Steel 304 Reflector




(Any type you can chose with reflector or without Reflector, You also can add float ball.)




Glass Type: Natural Glass,Tempered Glass and Borosilicate Glass




Resist Tempreature Range:-30'C to 120'C




Pressure Range: 5-10 Bar(0.5MPa to 1 MPa).




Thread type:NPT,NPTF,UNC,UNF,Metric and BSP(G thread)




Size: Below you will get the size you wanted.Another size is okay.OEM are welcome.




Usage: Pump,Oil Receivers,Gearboxes,Speed Reducer,Compressor and Power Transimission.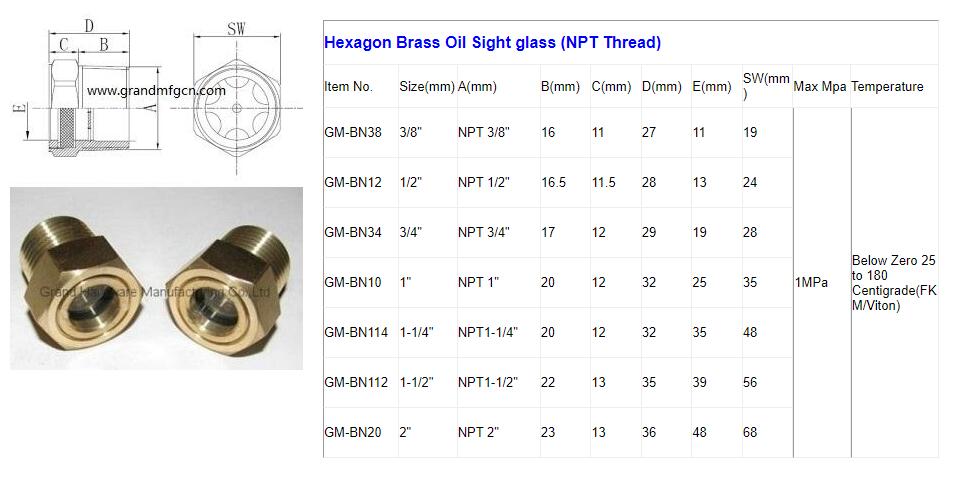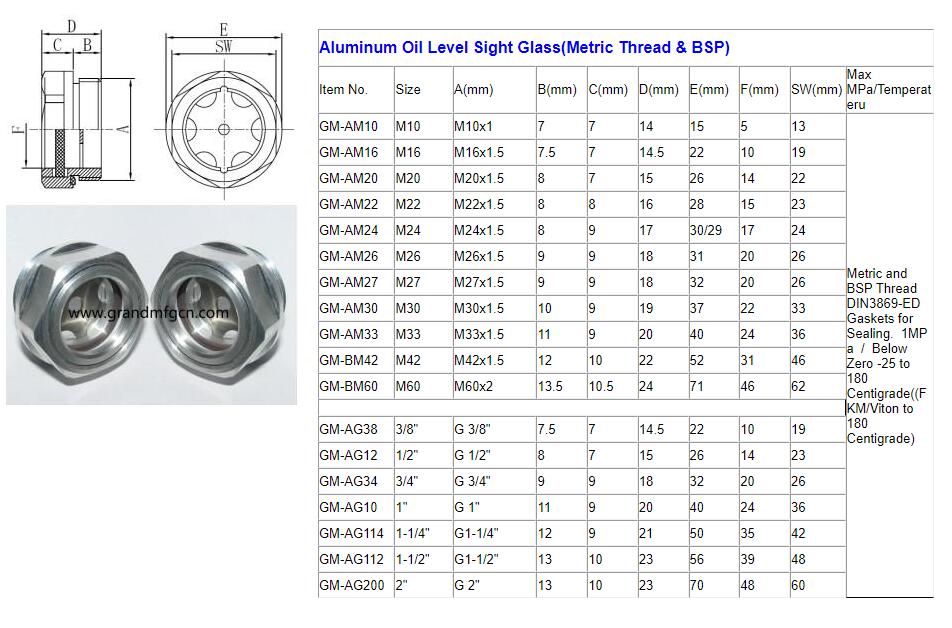 LINK TO: GRAND-MFG CATALOGUE
Grand Hardware Manufacturing Co., Ltd
& Yuhuan Yize Machinery Factory is a precision metal parts supplier.
--Professional OEM metal parts supplier in many categories.such as CNC machining parts,CNC turning parts,precision metal parts,stamping parts and punching parts.

--Especially professional in oil level sight glass,fused windows sights,breather vent plugs,wheel bolts,hydraulic adapters and hydraulic steel oil drain plugs.

--We focus on the below business:
1.High gloss cutting drill, high speed CNC and digital control processing.
2. Both metal and plastic piece parts laser radium carving.
3. Exterior parts stamping, processing and other piece parts machining.
4. Pieces of exterior anoding, wiring drawing and printing and other surface treatments
5.+/-0.01mm tolerance will be controlled.

--We supply the metal parts in compliance with customized designs by material of:
Stainless steel, mid steel, Aluminum alloy, Copper and brass, Bronze, Hardened metal.
--Finish parts surface treatment: Zinc plating, Zinc-Nickel plating, Anodising and Etc.
--We can realize the customers' idea and design perfectly by our experienced work and keep confidentially meanwhile.
--Customized drawing are welcome.
--OEM metal work is welcome.
--Both the delivery time and service will exceed your expectation.
Any more qustion,Please contact us for more details about our production capacity which you concern!
To make your job easier!
LINK TO: GRAND-MFG CATALOGUE